made by
Kirikoro at tumblr

=========================================
Amon's last appearance:
Season Finale: EPISODE 10-11
"Skeletons in the Closet"/"EndGame"
June 23,2012
Amon's Speech (from Episode 6)

"I believe I have your attention,
benders of Republic City.

So once again, the Wolfbats are your pro-
bending champions. It seems fitting that you
celebrate three bullies who cheated their way
to victory, because every day you threaten and
abuse your fellow non-bending citizens, just
like the Wolfbats did to their opponents
tonight. Those men were supposedly the best
in the bending world, and yet it only took a few
moments for me to cleanse them of their
impurity. Let this be a warning to all of you
benders out there. If any of you stand in my
way, you will meet the same fate.

Now, to my followers. For years, the Equalists
have been forced to hide in the
shadows… but now, we have the
numbers and the strength to create a new
Republic City! I'm happy to tell you
that the time for change has finally come. Very
soon, the current tyrannical bending regime will
be replaced by a fair-minded Equalist
government. You and your children will no
longer have to walk the streets afraid!
It's time to take back our city!


For centuries, benders have possessed an
unnatural advantage over ordinary people. But
thankfully, modern technology has provided us
with a way to even out the playing field. Now
anyone can hold the power of a chiblocker in
their hand. My followers and I will not rest until
the entire city achieves equality. And once that
goal is achieved, we will equalize the rest of
the world!

The revolution has begun!"

---

"The era of bending is over! A new era of equality has begun!" - Amon giving speech in "The Revelation".

---

"I'm saving you for last." Amon telling Korra in "The Voice in the Night".

---

"I told you I would destroy you." — Amon telling Korra in "Endgame"

---

"I dedicated my life to you!" (Lieutenant)
"You served me well, lieutenant''. - Amon in "Endgame".

---

"Leave with me now. We have a second chance; we can start over. Please, you are all I have left in the world." - Amon to Tarrlok in "Endgame".



=========================================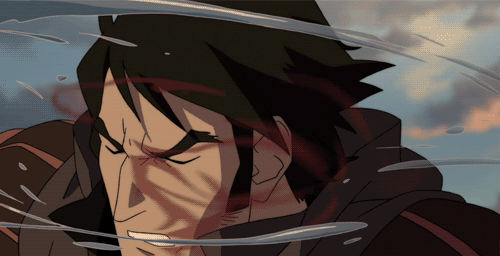 Amon / Noatak

Age: 40 (Deceased)
Born: 130 ASC
Died: 170 ASC
Gender: Male

Sibling's Name: Tarrlok
Father's Name: Yakone
Mother's Name: -Unknown-
Nationality: Northern Water Tribe
Fighting Style Waterbending, Bloodbending, Chi Blocking
Voiced by:
Steve Blum (adult Noatak/Amon)
Jacob Bertrand (ages 6-10)
Alexander Martella (age 14)
First Appearance: "Welcome to Republic City"
Last Appearance: "Endgame" Season 1 Finale

He was born as Noatak, Amon is a mysterious masked man who leads "the Equalists", an anti-bending organization
which uses chi-blocking skills to subdue their
foes. He states in "The Revelation" that
his face was severely scarred by a firebending
mobster who extorted and eventually
murdered his family, which is why he formed
the Equalist Movement.

He has also demonstrated the ability to
completely remove a person's bending, a
power it was previously thought that only Aang
had mastered. He is the main antagonist of the
series.


This is Amon's original character concept:

24.media.tumblr.com/tumblr_lov…

Amon's official concept:

i1060.photobucket.com/albums/t…

Chi blocker/Equalist official concept:

i1060.photobucket.com/albums/t…

Amon and the Equalists:

25.media.tumblr.com/tumblr_lov…

The Equalists early character concepts:

24.media.tumblr.com/tumblr_lov… 25.media.tumblr.com/tumblr_lov… 25.media.tumblr.com/tumblr_lov…

What are The Equalists? Read

avatar.wikia.com/index.php?tit…

Amon is a chi blocker. Amon's name is surprisingly the same as

the pressure point "Amon" located at the center of the nape/back

of neck. Read more

amontheequalist.deviantart.com…

What does the chinese word on Amon's chest

i1060.photobucket.com/albums/t…

and

on his banner or posters

i1060.photobucket.com/albums/t…

means?

" 平 "

it reads as

Ping

and it means

"Peace"

or

"Harmony"

and

"fair"

or

"equal"

in English.



This is made by an awesome someone in tumblr!